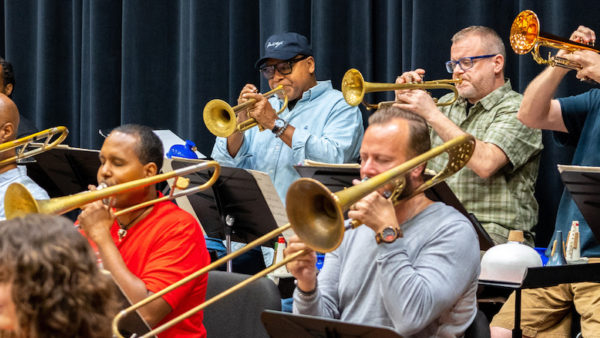 It's not every day the world class Jazz at Lincoln Center (JALC) with Wynton Marsalis performs at a local high school. In fact, the performance at Rio Americano High School on Saturday, September 11, 2022, was a first in JALC's storied history, and the Sacramento Jazz Education Foundation was part of this unique event. 
Rio Americano High School has a reputation for excellence in jazz performance and many Teagarden Jazz campers and TNT members attend Rio. Currently on tour, JALC reached out to Rio about trying something new. Instead of a clinic with a few of the JALC luminaries, they would bring the entire band for a full performance.  
SacJef was a lead sponsor for the performance and as such, was able to offer tickets to twenty local music students to see the evening performance for free. There were also opportunities for students to sit in at the rehearsal and meet some of the band members after the event. 
Duncan McElman, former camper and TNT member now directing a band at CSUS while working on his master's in music education, brought some of his students to the event and shared this with Sacjef:
 "Jazz educators are always telling students to learn the language of jazz by listening, but the benefits of listening are increased dramatically when live music is involved. As someone directing a collegiate jazz ensemble, the chance to send students to listen to one of the greatest big bands of our time was an incredible opportunity.  I am so grateful that SACJEF was able to facilitate such an utterly transformative experience for students who may have otherwise been unaware or unable to attend."
After the event Wynton stayed for more than an hour to talk with students, parents, and fans. He, and other JALC members, commented that this experience was unlike other tour stops; they could feel the sense of community which energized their performance and may consider making such events part of their tours. SacJef was recognized for being part of this groundbreaking event and hopes to work with JALC's Education department in the future.  
More at https://www.sacbee.com/entertainment/arts-culture/article265525946.html