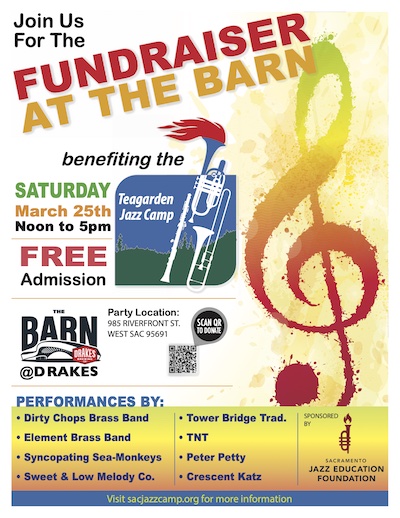 50 jazz musicians comprising six local bands will gather on the banks of the American River for this year's big event:
Saturday March 25 th, 2025 – 12 p.m. – 5 p.m
Drakes – The Barn – 985 Riverfront St
West Sacramento, CA 95691.
Headliners are Element Brass Band and Peter Petty—both Sammie award winning acts—plus Crescent Katz, Dirty Chops Band, and youth bands TNT, Sea Monkeys, Tower Bridge Trad, and more.
The all ages musical extravaganza is a fundraiser to help send deserving students to the Teagarden summer jazz camp. There is no cover charge, but a suggested $20-per-person donation will help bring the gift of jazz to budding young musicians. As the world's oldest musical camp focusing specifically on early jazz, Teagarden has a long list of celebrity alumni from pop star Carly Rae Jepsen to jazz singer and trumpeter Bria Skonberg.
Camp instructors are themselves highly accomplished musicians who have played with some of the biggest names around the world. In Sacramento, it's hard to find a jazz band that does not have at least one or two musicians who have taken part in the Teagarden camp as either an instructor, a one-time student, or both.
The camp is an annual production of the Sacramento Jazz Education Foundation, a nonprofit whose mission is to preserve and promote early jazz. The camp runs two weeks in the summer and is located in the Sierra foothills.
More information on the Camp, including how to register to attend, is at sacjazzcamp.org.