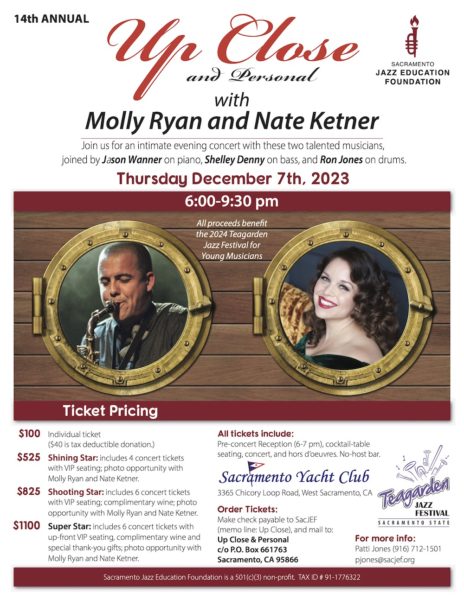 The 14th annual Up Close & Personal concert fundraiser is set for Thursday, Dec 7th, at the Sacramento Yacht Club, and will feature the talents of vocalist Molly Ryan and reed man Nate Ketner.
Order tickets for the event here.
Molly Ryan is one of the most sought-after vocalists on the NY jazz scene, and has performed at such prestigious Manhattan venues as the Café Carlyle, the Waldorf Astoria, Rainbow Room, Birdland, Iridium, The New York Historical Society Museum and The Players' Club. She has performed alongside such prominent jazz artists as Randy Reinhart, Jon-Erik Kellso, Bria Skonberg, Dan Barrett, Mark Shane, Rossano Sportiello, as well as with the preeminent 1920s-style orchestra, Vince Giordano's Nighthawks.
Molly's silvery voice and lush, elegant vocal style evoke the big band singers of the 1930s and breathe new life into familiar old standards.
Saxophone/clarinet player Nate Ketner is one of the best traditional jazz reed players in America. He has been playing the woodwinds professionally since he was 19 years old, and has developed the ability to authentically play many different styles, with an emphasis on jazz from the 20's to the 50's.
This annual event benefits the Teagarden Jazz Festival for Young Musicians, held each February in conjunction with the Jazz Studies program at Sacramento State University.